Many Scots 'choose' to ignore lifestyle health advice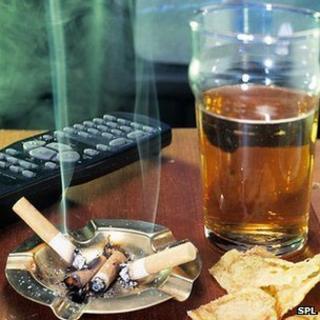 Many people understand advice on healthy lifestyle but fail to act on it, according to a report from NHS Health Scotland.
A majority described their alcohol consumption in moderate terms despite drinking over recommended limits.
Nearly nine out of 10 adults knew they should eat five portions of fruit and vegetables daily, but less than a quarter did so.
Researchers concluded that offering advice alone was unlikely to work.
The Knowledge, Attitudes and Motivations to Health report used data from the 2010 Scottish Health Survey.
Key findings were:
A majority of adults drank more than recommended alcohol limits, yet 41% described themselves as a "very light or occasional drinker".
87% were aware of advice to eat five portions of fruit or vegetables a day, but only 22% did so.
52% of adults felt were they physically active enough to stay healthy, but only 39% met the current recommendations of 30 minutes moderate activity on most days of the week.
83% of parents thought their children's weight was "about right", yet 33% of children had an unhealthy weight and 14% were obese.
'Lost skills'
Dr Laurence Gruer, director of public health science at NHS Health Scotland, said the messages about healthier lifestyles were getting across, but people were finding it hard to change the "habits of a lifetime".
He said: "People start learning what to eat when they are very young and they know the things that they like to eat.
"Something like fruit and vegetables, particularly vegetables, you have to prepare them properly, often from raw. A lot of people have lost the skills to prepare their vegetables.
"There has been an improvement, no doubt, but a lot of people are finding it hard to shift."
The report said a positive change in recent years was the growing number of smokers who recognised the importance of not smoking in the company of non-smokers, particularly children.
Public health information manager Louise Flanagan said: "These findings show that simply knowing how we should behave is unlikely to be enough to prompt most of us to make healthier choices.
"For many people, making changes to benefit their health in the long-term may be relatively low on their list of priorities.
"More needs to be done to understand and address barriers to acting on health advice, particularly among those in more disadvantaged socio-economic groups, who are less likely to feel that they have much influence over their own health."