Warning over ecstasy pills that raise overdose risk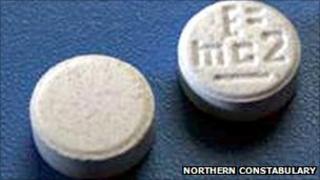 Police have issued a warning about an ingredient in some ecstasy tablets which could lead to overdosing.
The Scottish Crime and Drug Enforcement Agency (SCDEA) said availability of the class A drug had increased in recent months and that partygoers should be aware of the potentially fatal risks.
It said tablets which look like ecstasy have been found to contain a drug called PMMA.
The substance has been blamed for several deaths across Europe.
In September Northern Constabulary warned drug users about pills known as Einsteins which carry the inscription "Emc2" and are known to contain PMMA.
It followed the death of a 20-year-old man in the Raigmore area of Inverness.
PMMA is said to have similar effects to the more commonly known ingredient MDMA but some users believe it is less potent, meaning they end up taking higher doses.
The SCDEA said that while a rise in the price of ecstasy tablets can lead to the presumption that it is of better quality, it is "impossible" to judge without scientific analysis.
Det Insp Tommy Crombie, from the SCDEA, and drugs co-ordinator at the Association of Chief Police Officers in Scotland (Acpos) said: "An alert was issued in July 2011 and since then this drug has been found in drug-related deaths in Scotland.
"PMMA has been found in tablets in Scotland where they are known as Einsteins which have an Emc2 logo.
"PMMA and other harmful substances could be present in many illicit drugs including powders, products sold as legal highs and ecstasy tablets in all sorts of colours and with all sorts of logos.
He added: "Like all illicit drugs, there is no way to tell what's in them until it's too late."
Katy Mcleod, from Crew 2000, an organisation which offers drugs information and advice, said: "With drugs such as PMMA being possibly in tablets, negative side-effects and potential of overdose are more likely.
"Although users report similarities to effects of MDMA, many argue that effects can feel less potent han MDMA which can result in users re-dosing and thus increasing the risks."