Christmas radio drama: 'Billy Connolly is such a diva'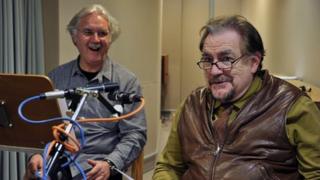 "He is such a diva. The man has no discipline. It is impossible to work with him."
Brian Cox singing the praises of his co-star Billy Connolly.
He's joking of course and being egged on by his partner in crime.
"I'm not ashamed of it. I am such a diva. I'm a name-dropper as well," says Billy.
The pair have just finished a marathon recording session.
They've been brought together by BBC Scotland to star in a Christmas Day radio drama in which they play brothers who join forces in a journey to trace a childhood sweetheart.
Like brothers
The drama, The Quest of Donal Q by Scots writer David Ashton, is loosely based on the classic Cervantes tale Don Quixote.
After completing 71 scenes the two stars are on good form.
"This is by far the last time will work together," laughs Brian.
"It's been terrible, absolutely dreadful," adds Billy.
But joking aside, the actors have enjoyed playing the part of siblings, Donal and Sandy, reunited after being separated as children in an orphanage.
"Our great, great grannies lived in the same street in Anderson, so we've always felt related," says Billy.
"It's been such a gas. I've been dying to work with Brian for years and since we met we've been like brothers."
The Quest of Donal Q is Billy Connolly's first foray into radio drama.
"I love the medium. I love being on the radio. But it was a really unique experience to do a play on the radio," he says.
"Brian was much better at it - but not that impressive.
"It all comes down to not shaking your pages too much."
Tattie-picking
The team behind the radio play were eager for it to be broadcast on Christmas Day but had to work hard to fit it into the two Hollywood actors' busy schedules.
"It was tattie-picking season," says Brian.
"That was the problem this year. I had to go and pick the tatties."
"And I've got this night-time job mud-wrestling," adds Billy.
In actual fact Billy was filming right up until the night before recording began on The Quest of Donal Q and Brian was working on another BBC radio drama, McLevy, which is due to be broadcast next year.
However, with a bit of juggling the two were brought together and listeners will be able to tune in on Christmas Day to hear the end result.
"It has been absolutely brilliant working together," says Billy.
"An absolute joy," agrees Brian.
"All the cast were great. Everybody was lovely. It was fantastic."
You can hear a full interview with Brian Cox and Billy Connolly on the Culture Cafe at 13:15 on Tuesday 20 December on BBC Radio Scotland.
The Quest of Donal Q will be broadcast at 14:03 on Christmas Day on BBC Radio Scotland.