Scottish Renewables slams 'flawed' energy report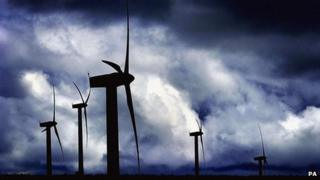 The renewables industry in Scotland has hit back at a report which claims wind and solar power cannot meet the UK energy's needs.
Scottish Renewable said the research from the Adam Smith Institute was "flawed" and "one-sided".
The pro-free market think tank produced its report jointly with the Scientific Alliance.
A separate study by Reform Scotland said the country could earn £2bn a year exporting renewable electricity.
The more pessimistic assessment of the potential for green energy came in Renewable Energy: Vision or Mirage?.
Its key arguments were:
Wind and solar energy schemes cannot replace gas, coal or nuclear power generation because their energy sources are intermittent and effective energy storage technology is not available.
Wind turbines require back-up generating capacity which make any reduction in CO2 emissions quite modest
Current targets for wind energy by 2020 would require the installation of five turbines every day
The decommissioning of coal-fired power stations and nuclear over the coming decade are a threat to energy security
Solar and wind energy have "no prospect of becoming economically competitive in an unrigged market"
Report co-author Martin Livermore said: "For too long, we have been told that heavy investment in uneconomic renewable energy was not only necessary but would provide a secure future electricity supply.
"The facts actually show that current renewables technologies are incapable of making a major contribution to energy security and - despite claims to the contrary - have only limited potential to reduce carbon dioxide emissions.
"Consumers have a right to expect government to place high priority on a secure, affordable energy supply."
Scottish Renewables said the report was one-sided and completely overlooked the benefits of renewables.
The industry body's chief executive Niall Stuart said: "The report is full of serious flaws and oversights, and not once does it mention the need to tackle climate change, or its massive economic, social and environmental costs.
"The authors completely overlook the latest evidence on cost showing that large-scale onshore wind is already cheaper than nuclear, with large reductions in the costs of all renewables in the future.
"They also fail to mention the huge increases in bills this winter as a result of the UK's reliance on imported gas."
World leader
In another report just published by Reform Scotland, called Powering Scotland, a very different picture of the renewables sector was painted.
It said Scotland could become a world leader in renewable technology and could potentially earn £2bn a year by exporting green energy.
Graeme Blackett, a trustee with the think tank, said: "We would support the aim of a substantial increase in energy exports with a target of around half of electricity generated in Scotland being exported.
"Even using conservative assumptions on prices, this would increase Scottish exports by £2bn per annum, equivalent to around 17% of manufacturing exports to the rest of the UK.
"Given that some of the current fossil fuel and nuclear capacity will still be available in 2020, this is feasible if the 100% renewables target set by the Scottish government is met."
The group called for all of Scotland's nuclear power stations to be phased out and for energy powers to be devolved formally to Holyrood.
The environmental group WWF Scotland claimed the assessment by the Adam Smith Institute was not backed up by research.
WWF Scotland director Dr Richard Dixon said: "This report comprises a selection of tired and unconvincing myths about renewables and is a distraction from our fight to reduce carbon emissions.
"The report's attacks on renewables just don't stack up. More renewables really do mean less fossil fuels burnt."