Law change protects bereaved from forced home sale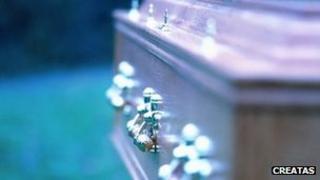 Fewer people in Scotland will be forced to sell their homes in future if their wife, husband or civil partner dies without leaving a will.
Under current law if a homeowner dies without leaving a will the property might have to be sold if its value exceeds £300,000.
The Scottish government plans to raise the threshold to £473,000 to reflect increased property values.
Other changes will allow more estates to be finalised without a solicitor.
At present the spouse or civil partner of a person who dies without leaving a will has a "prior right" to receive the home they shared.
But if the property is worth more than £300,000 the property may have to be sold with the proceeds subject to rival claims by the deceased's children or siblings.
The Succession (Scotland) Act 1964 will now be amended to raise the figure to £473,000, reflecting the rise in property values since it was last increased in 2005.
Minister for Community Safety and Legal Affairs Roseanna Cunningham said: "These small but much needed changes will offer protection for those who have lost a loved one and are left to deal with the consequences when no will has been made.
"The increase in limits to £473,000 means that most people in Scotland will be able to stay in the family home they shared with their spouse or civil partner, sparing them the distress and disruption of leaving their homes at such a difficult time."
Another change will allow more people to deal with small estates without incurring expensive legal costs.
A sheriff clerk will be able to prepare an inventory and declaration to finalise an estate when it is worth less than £36,000 - up from the current figure of £30,000.
Ms Cunningham added: "The increase to £36,000 for small estates will mean a greater number of estates will be able to be finalised without the need for extra legal expenses and should benefit less well off families."
Both changes, which follow a Scottish government consultation, are due to come into force in February 2012.
Bruce Ritchie, from the Law Society of Scotland, said the added protection should not be undermine the message that it was necessary to write a will.
He said: "It is vitally important that people have a will to make sure their wishes are properly carried out and avoid unnecessary disputes, expense and delay.
"It is also important that existing wills are reviewed to take into account any change of circumstances."