Scotland storm: Engineers battling to restore power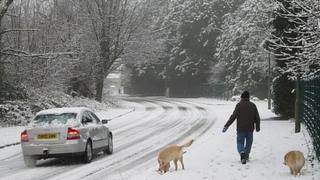 Engineers have been working to reconnect thousands of homes left without electricity by severe storms in Scotland.
About 150,000 homes are thought to have lost power on Thursday, with more than 70,000 cut off overnight.
Scottish and Southern Electricity said at 18:30 on Saturday that 4,800 customers remained without power.
A spokeswoman said the majority of these customers should be reconnected by midnight.
The company has been using three helicopters to locate damage to power lines in remote areas.
It has attempted to keep in touch with customers still cut off and, where possible, has arranged assistance for vulnerable householders such as the elderly.
The strong storm - the worst in the UK for a decade - brought down trees, closed roads and schools and knocked out power lines.
Without water
The storm eased in the central belt on Thursday evening but caused problems across the north and north east.
Of the homes still without electricity, the majority are in Argyll and the west.
By Saturday morning, the village of Salen on the Ardnamurchan peninsula in Argyll had been without water and electricity for two days.
The local hotel had been assisting the 100 people who live locally. Power was restored on Saturday afternoon.
Nikk Livett, a bed and breakfast owner in Salen, expressed her concern about the village's water supply, which was still off after the electricity supply was re-connected.
She said: "We used to have a gravity-fed water system.
"It was taken away (and replaced) by an electric pumping system from the next village.
"Which is fine except when there's a power cut."