Scotland's climate change target 'could cost £11bn'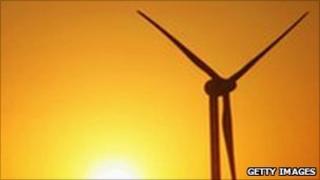 The cost of reaching Scotland's ambitious climate change targets could top £11bn, according to a report from a money watchdog.
Audit Scotland said the country had made good progress towards making its 42% reduction in pollution by 2020.
However, it warned that in order to remain on target action was needed.
It said the challenges would be much greater over the next few years as the pressure on Scotland's public sector finances was likely to increase.
The report - titled Reducing Scottish Greenhouse Gas Emissions - believed that both the EU and the UK government would need to do more as only one third of the planned reductions were coming from policies solely under Scottish government control.
At 42%, Scotland's climate change target was more than the UK government's, which stands at 34%, and double that of the EU's, which stands at 20%.
The report said that while it is difficult to estimate the cost of such reductions, it estimated costings of between £10bn and £11bn, with the government yet to establish how much of this would be met by the public sector.
Auditor General for Scotland Robert Black said: "To meet the 2020 target, new policies will need to be delivered successfully, especially in transport.
"The challenges will be that much greater over the next few years when the pressures on Scotland's public sector finances are likely to increase."
Commenting on the report, Green Party co-leader Patrick Harvie said: "The auditor general is right to flag up areas like transport where the Scottish government will need to make serious policy changes in order to meet the climate change targets.
"The scandal is that if action had been taken years ago when budgets were rising we'd have been in a far stronger position, both in terms of carbon and financially."
SNP MSP Rob Gibson, convener of the Rural Affairs, Climate Change and Environment Committee at Holyrood, welcomed progress on the targets.
He said: "We are doing well but we need other countries to join us, and there is no room for complacency. Scotland is already a leader through the introduction of one of the most progressive and ambitious climate change bills in the world.
"The SNP Government has made a commitment to this country which has the world's best developing technologies and energy resources in wind, hydro, biofuels, and the exciting future industries of tidal and wave and photovoltaic (solar) technologies.
"It is now key that we work in partnership with other countries and help to convince the EU to increase their target from 20% to 30% for reducing emissions by 2020 to ensure that Scotland remains at the forefront of this green-energy revolution."
'Words not enough'
Labour's environment and rural affairs spokeswoman Sarah Boyack said the report represented a stark reminder about the scale of the challenge facing Scotland.
She added: "The Scottish Parliament set really tough climate change targets that are world-leading, but that is just the beginning.
"We need a serious, credible, and urgent plan from ministers to implement them in a way that is fair and economically sustainable.
"For some time now, we have warned that warm words are not enough and the lack of a serious plan would cost us dear - both in terms of public finance and missed targets."