Consuls in school foreign languages plea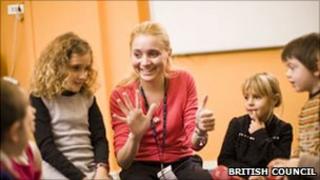 Foreign diplomats have raised concern at the drop in language assistants from their countries in Scottish schools.
Last month, the British Council Scotland revealed an 80% decline in language assistants in six years.
Now, Edinburgh Consuls General of France, Germany, Spain, Italy and China have joined forces to stress the importance of native-speaking teachers.
The diplomats warned that to increase global trading, Scotland needed to be serious about modern languages.
The British Council Scotland said Scottish exports to these five nations alone were worth £4.52bn in 2009, representing about 21% of Scotland's total international exports.
The educational and cultural organisation manages the foreign language assistants programme with a grant from the Scottish government.
However, individual local authorities decide whether or not to take on foreign language assistants.
The British Council Scotland said the dramatic fall from 284 to 59 could be the result of local authorities slashing budgets for assistants in the wake of recent spending cuts, and the removal of ring-fencing from local government finances since the Concordat of 2008.
'Cultural bridge'
The Scottish government has expressed strong support for language learning.
The Curriculum for Excellence states it is important for the nation's prosperity that young people become confident users of a modern language.
While the first minister was on a mission to China to promote trade and cultural links, that country's consul general highlighted the importance of foreign language assistants in acting as a "bridge of cultural exchanges".
Li Ruiyou, Consul General of the People's Republic of China, said: "Foreign language speakers make it possible for China to communicate with international communities, and have helped China 'go global' and become the second largest economy in the world.
"It is encouraging that the number of Scottish people who have taken, or will take, Chinese is increasing. But the drop in the number of foreign language assistants in Scotland has given some cause for concern."
Pierre-Alain Coffinier, Consul General of France, said: "Poor language skills put young people at a disadvantage in the global market.
"Learning a language is not only about learning vocabulary and grammar, but about being able to develop self confidence, communication and intercultural skills in a foreign language and culture.
"That is the key to opening Scottish youngsters' horizons and to broaden their prospects in life."
'Cost effective'
In 2011-12, just seven (Angus, City of Edinburgh, East Renfrewshire, Inverclyde, North Ayrshire, North Lanarkshire and Orkney Islands) out of 32 Scottish local authorities employed foreign language assistants.
A Scottish government spokesman said it welcomed the fact that consular officials in Scotland recognised the "valuable input" of foreign language assistants.
He said: "While local authorities are looking to economise where they can, foreign language assistants are a cost effective means of complementing the work of language teachers in schools.
"Our Languages Working Group will consider how they can help deliver our ambitions to boost language learning in Scotland's schools."