Alan Cumming to star in National Theatre's solo Macbeth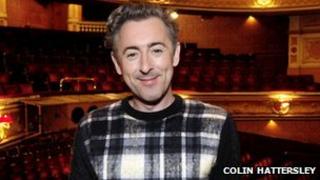 Hollywood actor Alan Cumming returns to Scotland next year to perform in a one-man stage production of Macbeth.
The 46-year-old actor, from Aberfeldy in Perthshire, has appeared in films including GoldenEye and X-men and currently stars in the US television drama, the Good Wife.
Macbeth was one of a number of shows announced as part of the National Theatre of Scotland programme for 2012.
Cumming said he had been "obsessed" with the play since doing it at school.
Macbeth was also the first production of a William Shakespeare play he ever performed in.
He said: "I have been obsessed with Macbeth for as long as I can remember. It was the first Shakespeare I ever read, the first I was ever in and it continues to haunt and inspire me.
"The only thing I can think of more exciting, challenging and terrifying is to do a one-man version of it with these great directors and this great company and to perform it in my two favourite cities in the world, Glasgow and New York."
The programme's other highlights include Glasgow Girls, which tells the story of teenage asylum seekers living in high-rise flats and the way in which the community comes to accept them.
The Guid Sisters, a "gritty" Scots version of Michael Tremblay's play Les belles-soeurs, will also be shown at the Royal Lyceum Theatre in Edinburgh in September.
Vicky Featherstone, artistic director at the National Theatre of Scotland, said: "The National Theatre of Scotland was created to reach and appeal to a wide range of diverse audiences.
"Our innovative model enables us to do that. Our 2012 season, in collaboration with so many of Scotland's extraordinary artists and companies, is an example of that.
"From work for Scottish primary schools, to teenagers, for older audiences, for large-scale popular appeal and for intimate and thought-provoking personal experiences, I am thrilled to unleash this range of work to the world."
Macbeth, directed by John Tiffany and Andrew Goldberg, will run from 14 - 30 June next year at the Tramway in Glasgow, before being taken to the Lincoln Centre Festival in New York City during the first two weeks of July.
The launch of the 2012 programme coincides with the end of the National Theatre of Scotland's latest national tour.
The company's production based on the true story of a man who built a road on Raasay will finally be staged on the Scottish island.
Calum's Road is the story of Calum MacLeod who, after years of battling the authorities for a road so his daughter could get to school, built it himself.
He began the work in 1964, and completed the two miles stretch between Brochel Castle and Arnish 10 years later.
His story has since inspired songs, books and most recently the play by the National Theatre.