Scots academic probes Nazi links to Thalidomide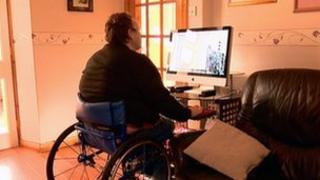 Like thousands of women, Steven Sinclair's mother took Thalidomide to ease morning sickness.
"She was suffering very badly with morning sickness," he said.
"They called the family doctor and he gave her three pills out of his bag. They didn't make much difference and she didn't bother asking for more.
"Three pills, and she's lived with the guilt all these years."
This weekend marks 50 years since Thalidomide was withdrawn from sale, 12 days after two doctors voiced suspicions that the drug was to blame for a spate of deformities.
In 1970, a trial of senior executives at the German drugs manufacturer Chemie Grünenthal was abandoned when the company agreed a compensation scheme.
Now one academic from Scotland is researching links between the drug and Nazi Germany - and carrying out investigations which could lead to new negligence claims.
Prof Ray Stokes is an expert in business history at the University of Glasgow, with a special interest in the chemical industry. He speaks fluent German.
For years, there have been rumours that Thalidomide was developed during the Second World War and tested on concentration camp inmates.
Prof Stokes was asked to investigate this by the Thalidomide Trust.
"The Nazi period is of interest to establish a pattern of behaviour," said Prof Stokes.
"What we can establish is a background in the Nazi period of connections between Heinrich Mückter, one of the key scientists whose name is on the patent of the drug, and some other companies and other scientists who were involved in experiments on concentration camp inmates."
Drug trials
While any Nazi links may attract attention, it is another line of inquiry which has bigger implications. Professor Stokes is investigating how much Chemie Grünenthal knew about the drug before it was withdrawn.
"The claims that they make about this drug do not stand up to scrutiny," he said.
"They claim that they tested this drug only on mice but in the trial they say they lost all the results. If you look at the wording of the patent, it gives such a level of detail about the effects on human beings that it's implausible that they didn't know something about that."
Chemie Grünenthal, or "Grünenthal", as the company is now called, still makes medicines but now concentrates on pain management.
It said that it always acted responsibly in the development of Thalidomide and its actions were consistent with knowledge and standards in the 1950s, a fact which it says was confirmed by the court case in 1970.
It pointed out that the company was founded in the post-war period and said it was not relevant to the Thalidomide tragedy whether there were employees with a Nazi past.
The firm added that it condemned Nazi crimes and was actively campaigning against neo-Nazi activities in Germany.
And what of the drug itself?
After a catastrophic beginning, Thalidomide may actually prove its worth. It is being investigated as a potential new treatment for cancer - under strictly controlled conditions.