Conference given insight into university inquiry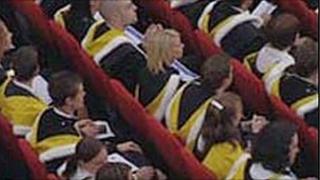 As the head of an inquiry into how Scottish universities are run, Professor Ferdinand Von Prondzynski's brief is already making senior university figures a little nervous.
And he gave his audience a start at Holyrood magazine's higher education in Scotland conference when he suggested that governance had become a topic of worldwide interest ever since executives at the disgraced Enron company in the US were "carted away in handcuffs".
Prof Von Prondzynski has been commissioned by the Scottish government to lead a team investigating whether universities could be run in a better way.
Any hope that the inquiry report may end up on a dusty shelf seemed to fade when he told delegates in Edinburgh that he understands that some of its recommendations will result in legislation going through the Scottish Parliament in April.
Prof Von Prondzynski, the principal of Robert Gordon University, said the review panel had not yet decided on its recommendations - but it plans to submit them to Education Secretary Mike Russell by the turn of the year.
Speaking earlier at the conference, Mr Russell said the inquiry was important to him because he wants assurances that institutions are spending public money "well and wisely".
More efficient
University leaders were pleased and relieved by their share of the Scottish budget; further education colleges - which received a major cut - less so.
Prof Von Prondzynski said some submissions had called for universities to become more answerable for what they do.
But he said: "It's important that accountability doesn't just mean higher levels of bureaucracy."
The professor said he was considering whether universities could become more efficient, more globally competitive and offer good qualifications to students while ensuring that taxpayers see a return on their investment.
He told the conference that some submissions to the inquiry had called for university principals to be elected rather than appointed.
But others had suggested that universities could become more democratic if they were simply more responsive to staff and the wider public.
Governing body
The panel had received appeals for the role of rector to be abolished, but others suggested the role should be retained or extended.
In some universities, rectors have the potentially powerful role of chairing the university's governing body.
The post, which exists only in some institutions, is often filled by celebrities and other figures in public life. Critics say the attendance and effectiveness of rectors varies.
Answering complaints from students and staff over decision-making on campuses, Prof Von Prondzynski said he accepted that sharing powers among rectors, staff and students could in some organisations appear to be little more than a slogan.
But he added that achieving consensus could slow down decision-making, saying: "Sometimes collegiality can be an excuse for paralysis."
Professor Seumas McDaid, of the umbrella body Universities Scotland, told delegates that leaders in higher education tried hard to involve students and staff.
"I am not saying that the system is perfect and can't be improved, but on the whole it is pretty good," he said.