Sharp fall in mallard numbers wintering in Scotland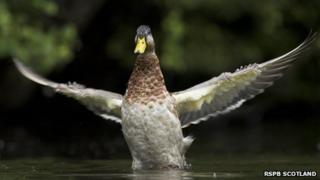 The number of mallard ducks wintering in Scotland has almost halved over the past 30 years, according to a joint report from conservation groups.
Other species found to be in decline were pochard, goldeneye, Greenland white-fronted geese and dunlin.
RSPB Scotland said milder weather could be persuading winter migrants to cut short their journeys.
Numbers of other species such as widgeon, gadwall, teal and pink-footed geese increased over the same period.
The latest bird population figures are contained in the State of UK's Birds 2011, published by a coalition of conservation organisations.
Mallard numbers, traditionally bolstered by an influx of birds from northern and eastern Europe, fell by 46% in Scotland since 1982 and by 32% since 1998.
RSPB Scotland director Stuart Housden said the reasons for the decline were not immediately apparent, but warmer weather affecting migration patterns was a plausible theory.
"The fact that fewer of these winter visitors are reaching the UK may well reflect progressively milder winter conditions further north and east across Europe," he said.
"This is a reminder that we still have much to learn about the long-term impacts of climate change and its consequences for wildlife across the globe."
The future of the Greenland white-fronted goose is of particular concern as Scotland hosts a significant proportion of the world population of this bird - on Islay, Caithness and the wetlands in the south west, he added.
The report also revealed mixed fortunes for seabirds, many of which breed on Scotland's coastlines.
Arctic skua, herring gull and kittiwake have all suffered substantial declines since a national seabird-monitoring programme began in 1986.