Ancient universities urged to fast-track students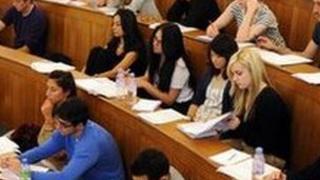 The Scottish government has accused some universities of putting up barriers to recruiting students from further education colleges.
The claim came after the National Union of Students said a change in practice would encourage students from poorer backgrounds to complete degree courses.
Ancient universities do not routinely admit FE students into the second or third year of a degree course.
Education Secretary Mike Russell said the NUS Scotland was "utterly right".
Many college students take higher national qualifications which are independently verified by the Scottish Credit Qualifications Framework as equivalent to the first or first two years of university education.
President of NUS Scotland Robin Parker said they should be able to complete a degree in less than the standard four years at the ancient universities - St Andrews, Edinburgh, Glasgow and Aberdeen.
'Less structured'
He said: "It basically creates a two-tier system where students who have made a decision to go to their local college are forced into going to universities that are less highly regarded.
"They don't have that opportunity to have that second chance of going to one of the prestigious universities we have in Scotland. Fundamentally that's not fair."
The education secretary said he agreed with NUS Scotland.
Mr Russell said: "I receive regular complaints that people who will do a Higher National Certificate or Higher National Diploma, who should go straight into third year of university.
He added: "Sometimes universities put barriers in their way. I don't think these barriers should exist. I think the norm should be that if you have gone through an HNC or HND you should go into third year of university.
"I want to see ensure that, except in the most exceptional circumstances, that happens. "
University leaders have cautioned that study at degree level is different because it is less structured and more emphasis is placed on self-directed learning.
A spokeswoman for Universities Scotland said the number of fast-tracked college students had nearly doubled to 3,370 over the past three years.
Universities were open to receiving more further education students as a means of widening access to higher education, she added.
The NUS will make the call for the ancient universities to alter their approach, at a conference on Higher Education in Edinburgh on Thursday.