Money seized from criminals used to help ex-offenders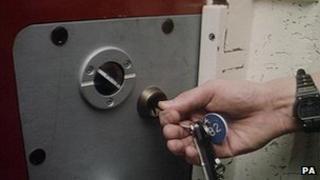 Money seized from criminals has been given to a project that helps offenders stay out of jail once they are freed.
The Routes Out of Prison Programme, operating in seven Scottish jails, will receive £250,000 of government funding.
Life coaches, mostly ex-offenders themselves, offer guidance to inmates nearing the end of short prison terms.
The scheme, run by Glasgow-based Wise Group, costs £2,000 per person compared to the £35,000 estimated annual cost of keeping an inmate in prison.
The funding comes directly from money seized from criminals under the Proceeds of Crime Act.
Scottish Justice Secretary Kenny MacAskill announced the grant during a visit to Wise Group's headquarters, where he met life coaches and some of those who had taken part in the scheme.
He described it as an "innovative project" that helped break the cycle of offending.
"Providing offenders with support, inspiration and hope is a vital element of turning around their lives and making them feel a more useful part of wider society," he said.
"We recognise that there are those who need support when they leave prison to keep them on the straight and narrow and choose a life free of crime. "
'Effective scheme'
Since it started in 2006, Routes Out of Prison has worked with 6,000 ex-offenders.
A study by Edinburgh University suggested that those who took part were less likely to reoffend.
Laurie Russell, chief executive of Wise Group, said Scotland had one of the highest reoffending rates in Europe.
He added: "This new money for our Routes Out of Prison project demonstrates the government's continuing commitment to end the revolving door of re-imprisonment."