Scottish Police Federation dismiss pension changes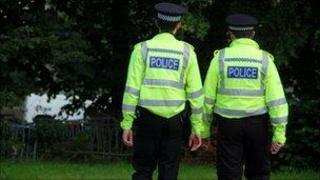 Police officers have become the latest group to reject the UK government's changes to public sector pensions.
BBC Scotland has seen a submission by the the Scottish Police Federation which describes plans for an increase in contributions as "an affront to democracy".
Public sector workers face increased contributions from April.
The UK government believes the current system for funding retirements is unsustainable.
More than two million public sector workers are due to take industrial action on 30 November in protest at the moves.
Police officers are not allowed to strike but they can make their views known.
In their submission to the Pensions Authority, the Scottish Police Federation, which represents 16,000 rank-and-file members, said the proposals showed "utter contempt" for the Scottish Parliament.
Ministers in Edinburgh control police pensions but said they had to adopt the pension reforms or face losing millions of pounds in funding.
'Serious reservations'
The submission said the SPF did not support adopting the England and Wales proposals in Scotland.
It said that without an up-to-date valuation of the pension schemes the SPF had "serious reservations about a proposal to increase contribution rates that bears no relation to the true value of the schemes".
It added: "It is our view the funding arrangements for police pensions in Scotland are such that there is absolutely no justification for passing increases to members of the police pension schemes.
"We further believe the Scottish government should be absolutely clear to HM Treasury their approach on this matter is an affront to democracy, undermines the devolution settlement and shows utter contempt for the role of the Scottish Parliament."
There are two police pension schemes: one for staff who joined after 1987, with contributions of 11% of salary, and a less generous one for staff who joined after 2006, with contributions of 9% of salary.
Officers earning between £27,000 and £60,000 a year will eventually pay 3.2 percentage points more in the 1987 scheme and 2.5 percentage points more in the 2006 scheme.