Anti-poverty youths host summit in Glasgow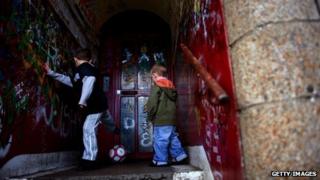 A group of teenage anti-poverty campaigners are due to host a "poverty summit" in Glasgow.
"Get In" has been set up by teenagers to campaign for better access to leisure for the poorest Scots children.
They will pitch their ideas to a panel of MSPs and those representing sport and leisure in Scotland.
Held at The Lighthouse in Glasgow, the summit will feature a short film made by the teenagers, as well as a Dragon's Den style workshop.
The young people are all Scottish ambassadors for Save the Children.
Research shows that young people growing up in poverty in Scotland are far less likely to be involved in leisure activities than their peers.
'So inspirational'
Lauren Ferguson, 15, who is involved in the campaign, said: "Being able to afford to do leisure activities in your free time is so important.
"It's not just about watching the latest release in the cinema - we're talking about doing everything from gym classes to playing football, or going ice skating or swimming.
"If young people could afford to do all these activities, we would have a country full of healthier people."
She added: "Just because some children are from poorer families, it shouldn't stop them being able to fulfil their potential and have as many opportunities as possible."
Christine Tate, from Scottish Gas, which is sponsoring the summit, said: "These young people are so inspirational and have already influenced changes to make a real and lasting difference to many children's lives.
"We all have a role to support our communities and making them better places for our youngsters".
Douglas Hamilton, Save the Children's head of Scotland said: "90,000 children in Scotland live in the most severe poverty and this has all kinds of knock-on effects - including affecting their potential to develop social skills, fitness and educational ability.
"Being involved in leisure activities - whether it's playing sports; attending drama or music classes, or even simply going to the cinema with friends - is important for a young person's development, and particularly significant for those growing up in poverty."