Midge bites in November 'unusual'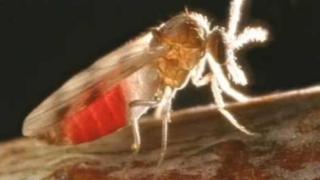 An expert on midges has said the tiny blood-sucking insects have been biting in November for the first time since monitoring began seven years ago.
Dr Alison Blackwell, who runs the Scottish Midge Forecast Service, said there were usually a couple of midges recorded in November.
But she said it was "very unusual" for them to be active at this time of year.
Dr Blackwell said there been no cold spell to "knock the last surviving midges of the summer on the head".
She said: "They will lurk around while it is still warm enough for them to fly and take a blood meal but as soon as we get a couple of hard frosts that will be the end of them.
"This November has been unusually mild."
Weather patterns
Dr Blackwell, director of Dundee-based Advanced Pest Solutions, said there had been reports of significant midge activity in places as far apart as Stonehaven in Aberdeenshire and Strathclyde Country Park in Motherwell.
She said: "It is not unusual that there are still some midges flying around but usually we would expect the end of September, beginning of October, that would be them disappeared.
"So if we continue to have similar weather patterns we may well see them pressing into the end of the year."
The Scottish Midge Forecast Service's website says "Biting midges are infamous in the Scottish Highlands, but they are now also found in other parts of the UK, including the Lake District and North Wales.
"There are nearly 40 species of biting midge in Scotland but only five of these are thought to regularly feed on people.
"Of these the Highland midge, Culicoides impunctatus (or 'Meanbh-chuileag' in Gaelic, meaning 'tiny fly'), is the most bloodthirsty, and the species responsible for most of the bites of people."