Protest goes upmarket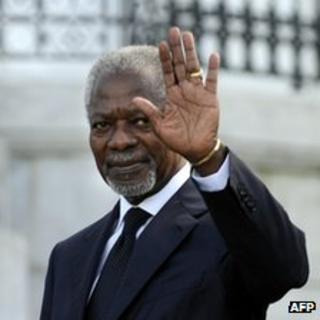 From Wall Street to St Paul's in London to Blythswood Square in Glasgow, the protest against greed has one big problem - it's already won the argument.
There's less to protest against when just down the hill from the Blythswood camp, the great and the good of Scottish business and public life were spending Friday evening at a black tie dinner, enthusiastically and lengthily applauding a very similar and eloquent call for radical change.
It was voiced by Kofi Annan, former director-general of the United Nations, and the main guest of the Scottish Council for Development and Industry at its international awards dinner.
"We can't go afford to return to business as usual," he told his audience.
There's been a breakdown of trust and confidence, as the rapid rise of global financial markets has gone without democratic oversight or checks and balances.
Extreme and divisive
Billions of people who were not to blame for the economic crisis are losing their jobs and quality of life, he said.
"The younger generation, who have the least responsibility for the failures of public and private institutions, are being hardest hit."
He cited evidence of global youth unemployment being three times that of the adult rate, at around 20 million.
The Ghanaian uber-diplomat talked of the loss of those young people to economies, and of their alienation, "turning their back on elections or attracted by extreme and divisive philosophies".
On the eurozone crisis, Kofi Annan talked of the need to tackle the crisis without slashing living standards for millions.
"If austerity is the only answer, frustrations will boil over", and the objectives of fiscal tightening will be undermined.
Anti-greed
And of the international organisations where he used to be the leading figure, Annan warned the UN Security Council reflected the world of 1945 rather than 2011.
The OECD developed nations, which made up 60% of global gross domestic product (GDP) in 1990, will account for only half that share by 2025, yet these countries still dominate the International Monetary Fund, World Bank and World Trade Organisation.
It's a radical agenda, but comes from someone who is no longer in office to lead the kind of change for which he's calling.
And he has something else in common with many of the anti-greed campers in the world's financial centres - widespread agreement on the problem, but not much clarity on the solutions.