Workers gather for STUC disabled conference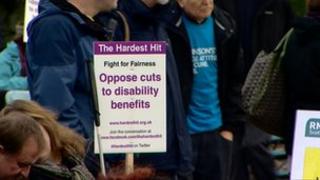 Disabled workers from across Scotland have gathered in Dundee this weekend for the Scottish Trades Union Congress (STUC) disabled workers conference.
Delegates are discusing issues affecting disabled employees in the workplace and wider Scottish society.
Union leaders have attacked government spending cuts which they say are hitting the most vulnerable people in society hardest.
The two day annual conference is being held at the Apex Hotel in the city.
Alan McKay from the EIS, who is chairing the event, said: "As the cuts begin to take effect it is clear the coalition government care little about the impact that their actions have on some of the most vulnerable people in our society.
"Disabled workers who lose their jobs in the public sector will find it hard, if not impossible, to find alternative employment in the private sector where business have a poor record in employing people with disabilities.
"The reaction of the government is to attack disabled benefits such as Disability Living Allowance, place supported employment workplaces under threat and subject disabled people with physical or mental impairment or serious long term conditions to an invidious Workplace Capability Assessment."
Last months hundreds of disabled people took part in a mass rally in Edinburgh against the UK government's plans to reform disability benefits.
The protest was organised by a coalition of leading Scottish charities.
They warned that up to £1bn could be slashed from the income and services people with disabilities receive over the next four years.