Loyd Grossman botulism alert: Third child treated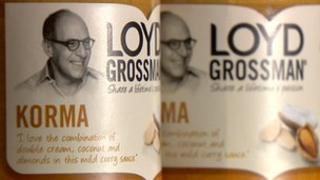 A third child in central Scotland has been admitted to hospital with suspected botulism.
NHS Forth Valley said the child was a sibling of the other two being treated for the illness, which has been linked to Loyd Grossman branded korma sauce.
The child was admitted to the Royal Hospital for Sick Children in Glasgow on Wednesday and is said to be stable.
Health officials said only one jar seemed to be affected and contamination occurred after it left the factory.
The two siblings who were admitted to hospital last week are "stable and improving", NHS Forth Valley said in a statement.
Product recall
TV presenter Loyd Grossman was said to be "devastated" after the botulism poisoning cases came to light. The sauce was made by Premier Foods at its factory in Bury St Edmunds, Suffolk.
The Food Standards Agency (FSA) announced that its investigations at the factory had not revealed any contamination and that its inquiry was now focused on what happened during transport, storage and use of the product after it left the company's control.
It has warned people not to consume jars of Loyd Grossman korma sauce in 350g jars with a best-before date of February 2013.
The batch code is: 1218R.
Premier Foods said a "precautionary recall" of the specific batch code had been ordered.
Botulism is rare in the UK. It is caused by toxins produced by the bacterium Clostridium botulinum, which attacks the nervous system.
The two children have been treated with antitoxins.
The Health Protection Agency has notified health professionals throughout the UK to be on the lookout for people with possible symptoms.
These can include blurred vision, difficulty swallowing, headaches and muscle weakness.
The infection is not passed from person to person. Symptoms can occur between 12 and 36 hours after eating contaminated food.