BMA Scotland urges government to ban smoking in cars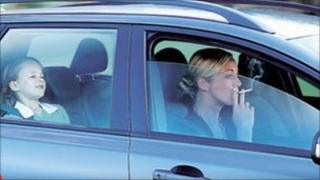 There is "compelling" evidence to support a ban on smoking in cars, according to the British Medical Association (BMA) Scotland.
In a briefing paper, doctors' leaders have urged the Scottish government to extend the current ban on smoking in public places to include vehicles.
BMA Scotland said the concentration of toxins in a smoke-filled car could be up to 11 times higher than a smoky bar.
The paper said children and elderly people were particularly vulnerable.
Respiratory problems
The paper, from the BMA's board of science, said evidence suggests the levels of second-hand smoke in cars could "contribute to a serious health hazard for adults and children".
Children are at risk because they absorb more pollutants and have a less developed immune system, while elderly people are prone to respiratory problems.
Dr Dean Marshall, chairman of the group's Scottish GP committee, said: "Every year in Scotland almost a quarter of all deaths are caused by smoking.
"But behind the stark statistics doctors see the individual cases of ill-health and premature death caused by smoking and second-hand smoke."
He added: "Scotland made a huge step forward in the fight against tobacco by banning smoking in all enclosed public places but more can still be done.
"We are calling on the Scottish government to take the bold and courageous step of banning smoking in private vehicles.
"The evidence for extending the smoke-free legislation is compelling. This should form part of a new tobacco control strategy that will take us further towards our goal of achieving a smoke-free society by 2035."
Earlier this year the British Lung Foundation urged Scotland to follow the lead of Wales where politicians are considering bringing in a ban on smoking in cars when children are travelling, if education programmes do not work.
A recent study in Scotland suggested air quality inside a smoker's car was comparable to industrial smog in cities such as Beijing or Moscow - even when the driver had windows open.
A Scottish government spokesman said the ban on smoking in enclosed public places had "undoubtedly reduced exposure to second-hand smoke among children in Scotland, partly as a result of the greater awareness among their parents, and those close to them, about the risks of second-hand smoke".
He added: "While we have no plans to extend the smoke-free laws to private cars, the Scottish government is conscious that private cars are now one of the main places for exposure of children to second-hand smoke.
"In developing our refreshed national tobacco control strategy for publication next year we will consider with our health improvement partners what further steps might be taken to protect children from the risks posed by second-hand smoke."