Scottish Parliament security hall pointless, say Greens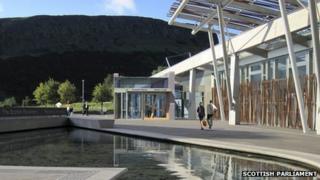 Plans to build a new security hall at the front of the Scottish Parliament building have been branded "costly and pointless" by one of its own members.
Holyrood bosses said police recommended the plan, following the Glasgow Airport terror attack.
But Green MSP Patrick Harvie accused the parliament of creating a war on terror "myth" to "separate politicians from the people".
More than £2m has been spent on Holyrood security changes since 2007.
A final decision to go ahead with the security hall will not be taken until later next year.
It is thought unlikely it would cost less than £1m.
Holyrood's management team, the Scottish Parliamentary Corporate Body (SPCB), said it was making a planning application to Edinburgh City Council for permission to build the security entrance, in light of advice from Lothian and Borders Police and the parliament's security advisers.
Previous steps to improve security at the Edinburgh parliament include the instillation of entrance turnstyles and bollards outside the building designed to guard against vehicle attacks like the 2007 Glasgow Airport incident, when a burning Jeep was driven at the main terminal.
Scottish Parliament Presiding Officer Tricia Marwick said a new external security facility would be able to better screen people going into the building and help protect the 1,000 people who work there.
In a letter to MSPs, Ms Marwick said: "By its very nature, security is an evolving issue.
"The level and nature of the security threat at Holyrood has changed since this building was designed some 10 years ago, and, certainly, since the attack on Glasgow airport in 2007.
"The SPCB has a duty to review the threat levels to Holyrood in light of such changes and to assess what the appropriate response should be."
But Mr Harvie described the plan as "costly and pointless", adding: "The Holyrood building opened later and cost more not least because it was built to the highest post 9/11 security standards.
"There are no active threats to parliament that we have ever been made aware of, and we have never been the target of any serious security incident.
"This proposal, like the absurd bollards already in place down the Royal Mile, does nothing to protect the public - it's part of a long-standing 'war on terror' myth designed to separate politicians from the people they represent and to build a sense of fear and exclusion around public spaces."
Bosses at the parliament, visited by more than 400,000 people a year, said they would consider whether to tender for, and go ahead with, building the security hall once the planning process has been completed.