Billy Connolly and Brian Cox to star in radio drama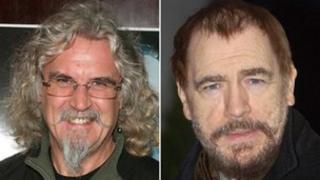 Two of Scotland's top actors, Billy Connolly and Brian Cox, will star in a Christmas Day radio drama.
The pair will play brothers who join forces in a journey across Scotland to trace a childhood sweetheart.
The drama, The Quest of Donal Q by Scots writer David Ashton, is loosely based on the classic Cervantes tale Don Quixote.
It will be broadcast on BBC Radio Scotland on 25 December and repeated on BBC Radio 4 in the new year.
Connolly will play Donal while Cox will star as Sandy, brothers who were separated as children in an orphanage.
Donal is adopted by a rich couple and brought up in California; Sandy remains in Dundee.
Ten years after falling out in a fierce row, Donal returns to ask his brother for help tracing Jeanette, a fellow orphan they both loved, now said to be in dire straits and in need of a "knight in shining armour".
Head of BBC Radio Scotland Jeff Zycinski said it was "fantastic news" to have two of the biggest stars in Scotland coming together.
"This is a lovely Christmas gift for our BBC Radio Scotland audience to enjoy as one of the highlights of this year's fantastic festive line-up of programmes," he said.
Next year BBC Scotland's drama department will deliver about 65 hours of commissions to Radio 4, Radio 3 and Radio 4 Extra as well as BBC Radio Scotland.
Highlights include a Victorian detective drama, McLevy, starring Brian Cox and Siobhan Redmond.
Also planned are productions of two classic American novels, John Steinbeck's The Grapes of Wrath and F. Scott Fitzgerald's The Great Gatsby.