Skills warning over foreign language assistant cuts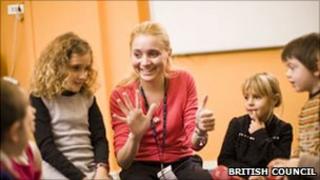 The number of foreign language assistants in Scottish schools has fallen by 80% in the past six years.
Figures from British Council Scotland revealed the total had dropped to 59, down from 284 in 2005/06.
Only seven out of 32 local authorities employed native speakers of French, German, Italian, Spanish or Chinese.
The British Council warned that Scotland could miss out on future international investment as a result of poor foreign language skills.
It said the fall in numbers of language assistants had been steeper in Scotland than in England, which saw a 21% decrease over the same period.
The foreign language assistant programme, run by British Council Scotland, is funded by the Scottish government.
Up to three schools can share a native speaker post, which costs £7,911 per year.
But, with the end of ring-fenced budgets, many councils have decided to spend the money on other areas.
British Council Scotland director Lloyd Anderson warned the decline in foreign language assistant (FLA) numbers would harm language teaching - and in the longer term damage Scotland's economic performance.
He said: "In an increasingly globalised world, Scotland needs to be outward looking.
"Speaking foreign languages shows our willingness to engage with the wider world, but it also has potentially huge economic benefits too.
"Scotland could miss out on international investment and export opportunities if we simply expect everyone to speak English."
The Scottish government stated recently it wanted Scottish pupils to learn at least two languages as well as their mother tongue.
Alastair Sim, of Universities Scotland, backed the British Council's call for language teaching to be maintained.
"Having one or more languages in addition to the mother-tongue will be a hugely valuable asset for future generations of Scottish graduates," he said.
"Starting languages at a young age, whilst in school, is the best way to learn and will hopefully ensure universities continue to see a steady stream of Scots hungry to learn languages at university several years later."
A spokesman for Cosla, the local authority umbrella body, said foreign language teaching remained a crucial part of the education system.
He added: "The delivery of education is rightly and properly an operational matter for individual councils together with budgetary decisions.
"They are the ones who have to by law present a balanced budget every year and who best know the local needs and priorities of their own areas."