Scottish images archive for school in Calcutta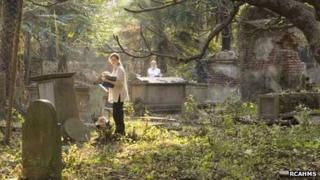 A school in India has been presented with a virtual library containing more than 360,000 images of Scotland.
The Scottish Church Collegiate School in Calcutta is the first in the country to be given access to the collection.
The images were gathered by Scran, a project under the auspices of the Royal Commission on the Ancient and Historical Monuments of Scotland.
The material was presented to the school by Education Secretary Mike Russell, who is visiting India.
The presentation was seen as underlining links between Scotland and the city of Calcutta, now known in India as Kolkata.
The Scran images include the Scottish cemetery in Calcutta, which is being reclaimed from jungle and transformed into a green space in the heart of the city.
The Collegiate School, which has about 3,500 pupils, was founded in 1830 by the Reverend Dr Alexander Duff, who was the first Church of Scotland missionary in India.
Historic links
Its headmaster, Bivash Saniel, said: "Alexander Duff, the founder of the school, devised an educational mission in India which became so successful that it completely changed the education policy of the government of India.
"In a similar way, Mr Russell's visit to Kolkata has the potential to help herald a new era in the educational world of Bengal and India at a time when we are trying to make various changes to our national educational policy."
Scran, the Scottish Cultural Resources Access Network, is organised as a charity and provides an online learning resource base with images from museums, galleries, archives and the media.
Scottish schools and teachers have free access to Scran which had, by earlier this year, received more than 25 million hits.
Rebecca Bailey, RCAHMS head of education and outreach, said: "We are delighted that this Scottish-generated education resource is going to be used by teachers in Kolkata and look forward to hearing what more they can tell us about Scotland's historic links with India."
The Scottish Cemeteries project is run by the Kolkata Scottish Heritage Trust, which was established to commemorate and to build on the historic links between Scotland and Calcutta.