Charity raises awareness of war graves in Scotland
By Reevel Alderson
BBC Scotland's social affairs correspondent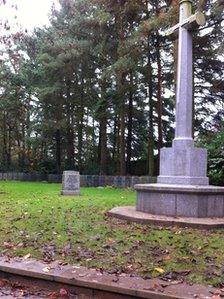 The organisation charged with remembering the dead of two World Wars has begun a campaign to raise awareness of its work in Scotland.
The Commonwealth War Graves Commission (CWGC) is best known for the military cemeteries it maintains abroad.
But is is also responsible for 20,000 war graves in Scotland.
To publicise its work, CWGC has begun a new programme, with information boards to be erected at cemeteries across the country.
There are more than 1,200 locations across Scotland where the commission maintains war graves, visiting each one on a three-year cycle, trimming grass and ensuring the headstones are in good repair and legible.
But CWGC acknowledged that few Scots were aware of its work, which is why it is now marking cemeteries containing war graves with signs similar to those seen abroad.
Ranald Leask, head of communications, said: "When people think of war graves, their thoughts immediately turn to they type of cemeteries the Commonwealth War Graves Commission tends in France and Belgium - huge swathes of headstones all in a uniform manner."
The biggest concentration of war graves in Scotland is at the Lyness Royal Naval Cemetery on Hoy, Orkney, with almost 700 burials, while numerous graveyards contain a single casualty.
"There might be 10, 20 or perhaps just one or two in a cemetery," said Mr Leask.
"But the stories are the same, the sacrifices are the same, and I think people, if they have the time to investigate, will find some really interesting stories here."
During the two world wars those killed in action abroad were buried where they fell.
Those commemorated in the UK died at home or in hospital from their wounds or disease, in training accidents and air raids, or were killed at sea and their bodies washed ashore.
There are even some enemy graves, such as that of a German sailor killed when the Imperial Grand Fleet was scuttled in Scapa Flow after the end of World War I.
They include members of all three armed forces along with members of the Merchant Navy killed as a result of enemy action and air raid wardens in uniform.
Veterans' organisations have welcomed the new awareness campaign. The Royal British Legion in Scotland (RBLS) says it is gearing up for an increase in interest as the centenary of WWI approaches.
At Eastwood Cemetery on the outskirts of Glasgow, a garden of remembrance has been created using headstones of those killed in the world wars, and who were buried in graveyards now closed.
General Sir Alistair Irwin, RBLS president, said it was important for schoolchildren, who learn about the world wars as part of the curriculum, should visit the site to see the graves.
"When they're together in this way, it's very symbolic of the way they fought and died," he said.
"Having fought and died together in a common cause they're now lying together in a rather splendid way, a sort of comradeship in death, one might put it."
In total the Commonwealth War Graves Commission is responsible for commemorating almost 1.7 million service personnel who died in the two world wars.
The graves and memorials of these men and women, who came from all parts of the Commonwealth and who were of many faiths and of none, are found around the globe in 153 countries.
Related Internet Links
The BBC is not responsible for the content of external sites.