Tourism businesses urged to tap into Scots sailing boom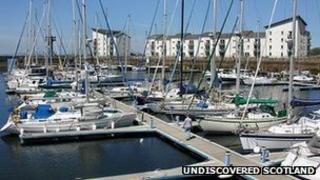 Tourism businesses in Scotland are being urged to cash in on a predicted boom in the sailing sector over the coming decade.
Sailing currently generates more than £100m a year for the Scottish economy.
A new guide published by Tourism Intelligence Scotland offers companies advice on how to tap into the growing market.
Tourism chiefs said sailors were drawn to Scotland by its beautiful scenery and first-rate facilities.
The new guide said market share for the sailing industry was predicted to increase to £145m in the next 10 years.
It sets out the business case for tourism operators getting involved in the market and outlines practical steps aimed at growing sailing-related businesses.
Rising market
Scotland has been described by enthusiasts as one of the top sailing destinations in the world.
Audrey MacLennan, from Highlands & Islands Enterprise, said: "Over the last two decades the sailing tourism sector in Scotland has been growing at unprecedented levels.
"We've seen new marinas emerging together with the development of existing facilities, and these have quickly been absorbed by the rising market. Despite the economic downturn, this growth has continued largely unabated.
"Regular sailing visitors from the UK and abroad have been captivated by our untouched sparkling waters, first-rate facilities, beautiful scenery and abundance of wildlife."
The Scottish Boating Alliance said about £12m had been spent at 24 locations around Scotland during the previous and current financial years, to improve sailing facilities.
The Sailing Tourism in Scotland guide is available to businesses who register at www.tourism-intelligence.co.uk
Scottish Enterprise is also running a series of workshops to coincide with the launch of the guide.