Defibrillator revives Glendaruel village phone box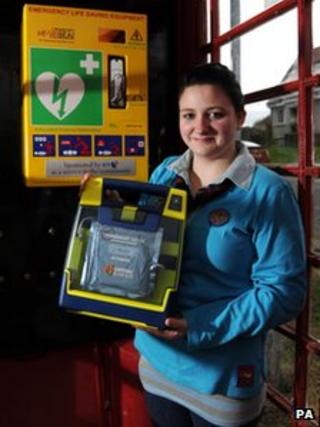 Life-saving equipment to treat cardiac arrest victims has been fitted into an unused phone box in an Argyll village.
The traditional red kiosk in Glendaruel now has a defibrillator machine which tells the user how to give treatment with step-by-step instructions.
The machine analyses the victim to determine if they are having a cardiac arrest.
If required, it delivers a powerful but controlled electric shock to restore normal heartbeat.
The equipment, paid for by BT under its Adopt A Kiosk scheme, is kept in a steel cabinet and can be opened with instructions from the Scottish Ambulance Service by calling 999.
It is the first phone box of its kind in Scotland and one of only five in the UK.
'Save lives'
Girl Guide Heather Munro, 16, came up with the idea during a competition held by 1st Glendaruel Guides to find the best use for the phone box. The group had just gained first aid certificates with the British Red Cross.
Heather's mother, Suzy Munro, a guide leader and member of Colintraive and Glendaruel Community Council, said: "We have a lot of visitors to the village, who come for the walking and our annual Cowalfest, and a number of the local businesses are in the tourist trade.
"We have seen people suffering from chest pain and heart-related symptoms and, sadly, there was a fatality just a few weeks ago. A defibrillator in the centre of the village will be a real asset and could help save lives in future."
The phone box was one of four bought by the community council for £1 each under Adopt A Kiosk because they were no longer needed as working payphones.
BT's Mark Johnson said: "Over the years many people have said that their local phone box was a lifeline. Now that everyone has a phone at home or a mobile that's no longer true. But kiosks fitted with defibrillator machines are genuine assets to their community and could be real lifesavers in the future.
"The most fantastic thing about the Adopt A Kiosk scheme has been how communities across the country have become involved.
"Red phone boxes have become a focal point for all sorts of activities of real value to the local community.
"It's so gratifying to see our old rarely used boxes given a new lease of life."
'Ideal locations'
The defibrillator was installed by the charity Community Heartbeat Trust, which provides defibrillation equipment for local communities.
Martin Fagan, trust national secretary, said: "Phone boxes are ideal locations for emergency medical equipment because they're often in the centre of a town or village.
"With something as serious as a cardiac arrest, time is of the essence and unfortunately the emergency services can't always reach country villages to apply defibrillators in the recommended five minutes."
The chance of survival decreases by 23% per minute following a cardiac arrest, according to the trust.
BT said payphone use has been falling for many years and the number of calls from payphones has fallen by about 80% in the past five years.
Last year no calls were made from about 8% (451) of the 5,373 payphones in Scotland. BT said it costs an average of £800 a year to maintain each phone.
The area with the most unused phone boxes in 2010 was Argyll and Bute, with 53, but even Scotland's largest cities had their share as Glasgow had seven unused kiosks and Edinburgh had eight.
BT said since it was introduced in 2008, the Adopt A Kiosk scheme had led to boxes being turned into art galleries, public libraries, exhibitions and information centres.