Scottish SPCA calls for fireworks 'season' restrictions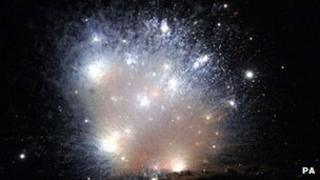 Laws on the sale and use of fireworks need to be tightened, according to a leading animal charity.
The Scottish SPCA said there had been an increase in the number animals being seriously harmed as a result of exposure to fireworks.
The charity said current legislation was too relaxed.
It has urged the governments at Westminster and at Holyrood to enforce tighter restrictions to limit when fireworks can be sold and used.
The UK government is responsible for legislation on the sale of fireworks while laws concerning their unlicensed use in public are devolved to the Scottish government.
As people across the country prepare to attend official Bonfire Night displays or let off fireworks in streets and gardens, the Scottish SPCA encouraged members of the public to write to their MSPs and MPs in support of its proposals.
Ch Supt Mike Flynn said: "We're asking for a restriction, not a ban, on the days it's legal to use fireworks and tighter laws on their sale.
"Because the current legislation is so relaxed, fireworks can be set off on any given day and for weeks and months on end rather than being limited to the major festival periods.
"This leaves pet owners and farmers unable to make adequate provisions for their animals."
The charity said it had been made aware of "numerous incidents" over the years where animals had been seriously injured and even died as a result of fireworks being set off near them.
Ch Supt Flynn added: "Animals will panic and flee at the sound of the bang and this can result in road traffic accidents.
"We've received reports of wild swans flying into electricity pylons and horses being badly injured after running through barbed wire fences.
"We're also aware of incidents where farm animals have aborted their young soon after nearby firework displays."
At present, fireworks can be used in public on any day of the year between 07:00 and 23:00, with the laws further relaxed around major occasions such as 5 November, New Year's Eve, Chinese New Year and Diwali.
They can be sold from 15 October to 10 November, from 26 to 31 December and on the days of Chinese New Year and Diwali and the three preceding days.