London 2012: Torch relay through Scotland revealed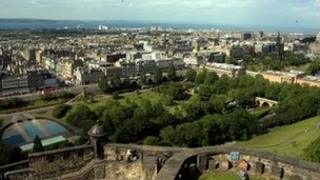 Details of the route of the London 2012 Olympic torch relay through Scotland have been unveiled.
The torch, which travels through the UK on a 70-day journey, arrives at Stranraer from Larne in Northern Ireland on 8 June 2012.
It loops around Scotland, travelling as far north as Lerwick in the Shetland Islands, before crossing the border to England at Berwick-Upon-Tweed.
The 8,000-mile relay begins at Land's End in Cornwall on 19 May 2012.
Torch bearers will carry the Olympic flame through all six Scottish cities of Glasgow, Inverness, Aberdeen, Dundee, Stirling and Edinburgh.
After passing through Glasgow, it will be taken up the A82 through Luss, Crianlarich, Glencoe and Fort William.
It will cross Loch Ness before travelling to Inverness and then on to Kirkwall, in the Orkney Islands.
On 10 June 2012 - day 23 of the relay - it arrives in Lerwick on the far north of its journey and turns back to London.
The torch's journey south through Scotland takes in Stornoway on Lewis and then heads east.
It will pass through Aviemore, Banchory, Brechin, Cupar, Dunblane, St Andrews, Lasswade and Galashiels before crossing into England on 14 June.
From Berwick-Upon-Tweed it carries on into England but returns to Scotland later to visit Dumfries and other towns in Dumfries and Galloway on 21 June.
It then crosses back to Carlisle and will finally reach Olympic Park in London on 27 July, the day the games open.
Eight thousand torch-bearers will carry the Olympic flame during its journey.
The London Organising Committee of the Olympic and Paralympic Games said the torch would come within a one-hour journey of 95% of people in the UK.
Michael Foxley, leader of Highland Council, said it was important people were able to see the flame, but also took up opportunities to carry it on the relay.
He said: "The torch will be coming up the spine of the Highlands - from Glencoe right through to John O'Groats.
"It is important that as many people as possible have access to it, but also as many people as possible take up the chance of joining the relay.
"I think in the Highlands about 110 people are needed to carry the torch so there are opportunities there for athletes and high school children."