Edinburgh Castle 'best heritage attraction'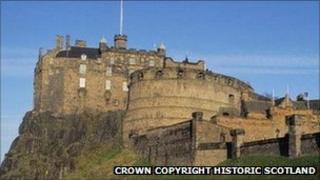 Edinburgh Castle has been named the best UK heritage attraction at the "Oscars" of the travel industry.
The attraction won the gold award at the 2011 British Travel Awards ceremony in London.
The castle has had one million visitors this year and is popular with tourists and music fans, hosting recent concerts by Bryan Ferry and Arcade Fire.
Nick Finnigan, Edinburgh Castle's executive manager, was presented with the award at the ceremony in London.
He said: "This is a great honour. Edinburgh Castle is home to the Scottish crown jewels which are amongst the oldest regalia in Europe, and the Stone of Destiny.
"However, it is also a fantastic venue for events ranging from rock concerts through to spectacular firework displays at the end of the Edinburgh Festival and New Year, bringing something for everyone to enjoy."
'Proud of heritage'
He said: "We are always looking for ways to improve the visitor experience and attract visitors from all around the world.
"Our costumed performers bring history to life and we have just had a re-enactment of the 1650 siege when Oliver Cromwell invaded Scotland and captured Edinburgh Castle, complete with grand parades of English and Scottish troops, the massive thunder of musket volleys and the roar of cannons.
Culture and External Affairs Secretary Fiona Hyslop said: "I am delighted to hear that Edinburgh Castle has been voted the best UK heritage attraction.
"We are very proud of its history and heritage. It is a global icon and continues to attract visitors from around the world.
"This year it has welcomed the highest number of visitors since records began and I am delighted to announce that it has just recorded its millionth visitor this year."