Baby scheme in schools to tackle bullying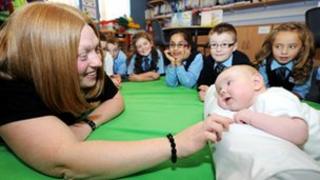 Babies are to be employed as 'tiny teachers' in classrooms to reduce levels of bullying and aggression in schools.
Action for Children's Roots for Empathy programme aims to teach schoolchildren to understand their own feelings and the feelings of others.
More than 150 baby volunteers have been recruited for programme, which has been piloted in North Lanarkshire.
Roots of Empathy is endorsed by the World Health Organization.
Action for Children has been funded by the Early Years Action Fund and has drawn up plans to expand the programme to 15 primary schools across Scotland.
Independent evaluations of the programme carried out in Canada - where it originated and has been active for the longest period of time - revealed a significant increase in peer acceptance in 74% of children and a decrease in social aggression in 39% of children.
Louise Warde-Hunter, strategic director of children's services at Action for Children, said: "Roots of Empathy teaches school children to understand their own feelings and the feelings of others by using a baby as the tiny teacher.
''This raises levels of empathy amongst classmates, resulting in more respectful relationships and a dramatic reduction in levels of aggression among schoolchildren.''
With their parents, the 'tiny teachers' will take part in nine visits to primary three classes over the course of the next year.
Roots of Empathy president Mary Gordon said: "Changing the world, child by child, may be an ambitious mission but here in Scotland Roots of Empathy has benefited from a wide community of support and expertise."