Scotland's community council network 'dying'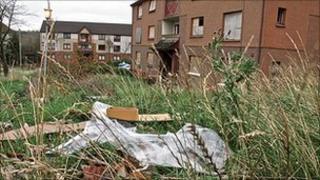 Scotland's network of community councils could be "dead" within 10 years, the president of the charity that represents the bodies has warned.
Vincent Waters said the councils would cease to exist "by default" unless younger members became involved.
A fifth of Scotland's 1,514 community councils are currently suspended because of a lack of interest, research by the BBC has found.
Of the active ones, nine out of 10 are formed without elections.
The high number of uncontested councils has led to accusations that many do not represent their communities. The bodies, which have been in existence since 1975, have a statutory role in planning, licensing and other areas.
Mr Waters, from the Association of Scottish Community Councils (ASCC), said the lack of contested elections was "unhealthy" for democracy and reputation.
"What you get varies massively," he said.
"You can have one operating incredibly effectively that's championing a range of local causes.
"And then you can have a community council next door where it's half a dozen or so of the weel kent local worthies whose interests are their own interests."
Mr Waters said if community councils were given a better "sense of purpose" and more legislative "teeth", it might attract younger people to become involved.
"If community councils stay as they are just now, within 10 years time - give or take - they'll be dead," he added.
No focus
Research by BBC Scotland has revealed that 299 community councils are currently suspended, though eight local authority areas have a full complement - including the Orkney Islands, Stirling, East Dunbartonshire and East Renfrewshire.
The Orkney Islands also has contested elections in 55% of the councils - the highest proportion anywhere in Scotland.
Dundee City has the lowest number of active community councils - with only 15.8% currently operating - though the area has five neighbourhood bodies with the same function. North Lanarkshire has the second lowest at 47.5%.
Motherwell West councillor Michael Ross said a lack of focus for community organisation could have a real visible impact on neighbourhoods.
"I find that it's getting increasingly difficult to get people involved in any types of organisations," he said.
"I think people are working harder, they've got less and less social time. The time they do have they want to spend it with their families. They don't necessarily want to come out any more."
Mr Ross, who is chairman of the local area partnership for Motherwell, also believes the community council model is often not suited to densely populated urban areas.
He added: "We've got community councils in North Lanarkshire where the area they cover is only a couple of streets - very small micro-neighbourhoods.
"If something falls apart there then very quickly there's no-one left to take up the slack."
Grant refused
But the BBC survey has revealed areas where the system is working well.
South Lanarkshire Council highlighted a transport network for the elderly and disabled run by East Kilbride Community Council.
And Glasgow City Council pointed to a group of four community councils who are collaborating to regenerate the Queens Park Arena.
However, national leadership of Scotland's community councils is in doubt after the ASCC recently announced it would be closing in April 2012.
The charity decided to fold when the Scottish government refused a request to double the size of its grant.
Local Government Minister Aileen Campbell said a working group on the future of community councils would be announced soon.
"They're an important body within the governance of our country and we need to support them and make sure they're the best that they can be," she said.
"We just need to find out what ways we can best support community councils to make sure that they can flourish and to make sure that folk know that these are good things to get involved with."