Christopher Hampson to be new Scottish Ballet director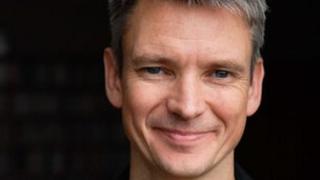 Christopher Hampson has been named as Scottish Ballet's new artistic director.
The award-winning director and choreographer will take over from Ashley Page in August next year.
Mr Page, who is credited with turning the company's fortunes around, had been keen to stay - but was unable to agree a new contract with the board.
Mr Hampson is a former professional dancer who trained at the Royal Ballet School.
His work for the English National Ballet includes the Nutcracker and the award-winning Double Concerto.
His production of Giselle for the National Theatre in Prague has been performed every year since its premiere in 2004.
He was nominated for a Laurence Olivier Award in 2005 for his production of Romeo and Juliet, which was created for Royal New Zealand Ballet.
Mr Hampson said it was "an honour" to accept the position with Scottish Ballet, which has its headquarters at the Tramway in Glasgow.
''This is a company that has garnered much critical acclaim for its award-winning repertoire," he said.
"I am looking forward to working with the excellent team at Scottish Ballet to realise an even wider commissioning vision and breadth of distinctive programming.''
Zoe van Zwanenberg, chairwoman of the board of directors of Scottish Ballet, said: ''I'm delighted that Christopher will be joining us.
"He has demonstrated enormous energy and vision, as well as a clear understanding about what it means to lead a national company.
''He has extensive knowledge of ballet repertoire and has wide-ranging contacts within the UK and internationally.''