Scots teachers 'forking out' to buy classroom resources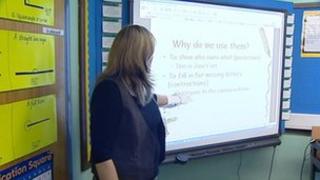 Teachers from across Scotland have told the BBC they have spent hundreds of pounds of their money on basic resources for their classrooms.
Almost 300 teachers contacted BBC Scotland through the EIS union. On average they said they had spent about £188 in the past year.
Several said they had spent more than £1,000 on items like pens and jotters.
Cosla, the body representing Scottish councils, said teachers should in no way be using their own money.
Of those who replied to the BBC's request for information about 15% said they had "forked out" more than £300.
The most common items bought included pens, pencils and rulers, cartridges for printing and photocopying, books - including textbooks and novels - and paper.
They also itemised things they bought to make the classroom more fun, such as toys, games and food ingredients for baking lessons.
One teacher said she had run a marathon to raise money for an overhead projector, and another claimed she had to buy her own chair.
One teacher wrote: "Without these resources my lessons would be very boring for the children and my classroom would resemble a Victorian classroom rather than a Curriculum for Excellence classroom."
Another said: "I would imagine if I was to keep an accurate diary, the figure would be staggering. I would imagine it would be in the region of £1,000, perhaps more."
In her response another teacher wrote: "My husband insists that teachers are propping up the failing system by continuing in this practice. This is true but we could not implement the new curriculum otherwise "
Not all teachers minded having to spend money on resources.
One teacher said: "We have a choice. We can supply it ourselves or the kids go without "
But as household budgets are squeezed, and teachers' pay is frozen, it seems the goodwill to supply these resources may be dwindling.
Jim Thewlis, from School Leaders Scotland, said: "Teachers are now going to look more critically at this extended professionalism and see it perhaps within the context more of moral blackmail rather than extended professionalism.
"It would be reasonable to say that the quality of experience will be damaged by the fact that extra resources that are going into the classroom on the back of the goodwill of teachers are not going to be there."
Ronnie Smith, from the EIS, added: "We have the government picking the pockets of teachers on pension contributions, we have major curricular reform, we have resource cutbacks and really teachers will judge the Scottish government on what they actually are doing and what their experience on the classroom is."
Education Secretary Mike Russell told BBC Scotland: "The Scottish government is working with Cosla on the implementation of statutory guidance for devolved school management, through which head teachers should have sufficient control over their own school budgets to ensure they have adequate school supplies and equipment."
A spokesman for Cosla said: "Even in this tough financial climate teachers in our schools should in no way be using their own money to provide classroom materials.
"As such, we would have to question the reliability of this research and how representative it is."