Barnardo's Scotland relaunches adoption service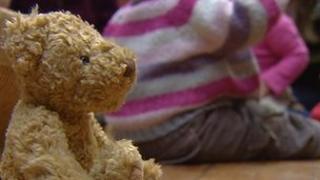 A children's charity is urging more people across Scotland to adopt as it relaunches its national adoption service.
Barnardo's Scotland closed its adoption agency in the 1990s due to falling numbers of children requiring a permanent home.
But it said over the past few years demand had returned.
The charity has also urged social workers to take the decision to put children up for adoption sooner.
Barnardo's Scotland is using National Adoption Week to call for more adults to consider giving a permanent home to children living in foster or residential care.
There are just under 16,000 children in local authority care in Scotland. Last year 218 children were adopted.
Difficult decision
Barnardo's Scotland said an increasing number of children were spending too long in the care system before finding a permanent home - which can be unsettling and lead to long-term emotional problems.
Stephanie Stone, assistant director of fostering and adoption at the charity, said: "Adoption has the best chance of success the younger the child is placed.
"Children's emotional attachments are made at young ages so the quicker we can make those decisions, painful as they are, then the better it will be for the outcome of the child.
"That's why social workers have to be brave. They have to say this is painful, it's a difficult decision, but our assessment and the evidence suggests that the parent is not going to be able to safely care for this child, therefore we have to make the hard decision to place the child for adoption."
Stuart Paton and his wife adopted two young girls. He said they now could not imagine life without them.
"It has completely changed our lives. They're absolutely fantastic," he added.
But he said the process was not as straight forward for everyone.
He said: "We have met other families who have adopted children and it is a high proportion of them who have stories to tell about how long things have taken - bits of paper going missing, social workers not chasing things up and children, and this is on the other side, being left for far, far too long."
Adoptions can take as long as two years to get through the courts.
Fiona Lettice, from Adoption UK, said the system needed to move faster.
"I do think there shouldn't be a drift in the system for children themselves," she said.
"I think decisions about children's futures, once they come into the system have to be made as speedily as possible because children only have a childhood once."
Time consuming
Earlier this year the Scottish government set up a National Adoption Register, with the aim of speeding up the process.
This followed the Adoption and Children (Scotland) 2007 Act - which allowed more people to adopt, such as unmarried and same sex couples.
Prof Kenneth Norrie, who specialises in family law at Strathclyde University, advised the Scottish government on the new legislation and is wary of calls to speed up the adoption process.
"When a child is removed compulsory, normally the parents are fighting this - they have a right to fight this," he explained.
"If any parent can imagine their own child being taken by the state they would want to fight.
"So it's right that they are given the chance to oppose adoption, it's right that evidence be taken that the court makes a very difficult decision about the welfare of the child for the future. This is unavoidably a very, very time consuming process."
Later this week MSPs are due to debate ways to reduce the amount of time children in care wait to get a permanent home.
This will include alternatives to adoption, such as long-term fostering and kinship care.
National Adoption Week runs from 31 October to 6 November.