Knife crime scheme to expand across central Scotland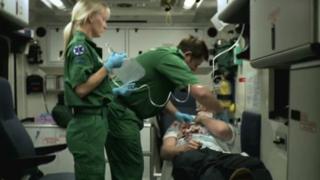 A pilot scheme which saw knife-carrying reduced by more than a third is to expand into six new areas of Scotland.
The No Knives, Better Lives project saw a 35% reduction in knife-carrying in Inverclyde, while a second area, Renfrewshire, saw a 29% fall.
It will now be rolled out in South Lanarkshire, North Lanarkshire, South East Glasgow, West Edinburgh, East Ayrshire and North Ayrshire.
The scheme focuses on both education and tougher enforcement.
Earlier this year project funding was doubled, with an extra £500,000 released for 2011/12.
Justice Secretary Kenny MacAskill said: "The No Knives, Better Lives education campaign has been a real success during a pilot in Inverclyde, with significant drops in the number of people carrying knives in the area.
"It is that combination of tough enforcement, backed by education, which is having a real impact on the ground and that is why I've doubled the funding of this important education initiative to allow us to roll out the tactics used to six new key areas and fund a fresh push of activity in existing areas.
"No Knives, Better Lives is achieving impressive results, and more young people are getting the message that carrying a knife is not worth the risk."
The campaign was launched in 2009 to educate young people about the dangers and consequences of carrying knives.
It involves hard-hitting talks in schools, targeted advertising in areas where young people are known to gather and youth work projects.