Ken Macintosh launches Scottish Labour leadership bid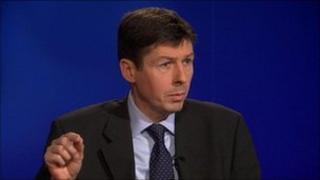 Labour MSP Ken Macintosh has launched his campaign to become the party's leader in Scotland with a pledge to put jobs, the economy and education first.
He said Scottish Labour needed to look to the future and get better at listening to its own members.
Two other candidates are vying for the leadership - the current deputy leader Johann Lamont and Glasgow South MP Tom Harris.
All three are due to address a meeting of the party in Glasgow on Saturday.
The contest was declared when current leader Iain Gray announced he would stand down, in the wake of May's Scottish Parliament election defeat.
Mr Macintosh launched his campaign at Cumbernauld College in North Lanarkshire.
The Eastwood MSP described the election result, which saw the SNP gained an overall majority at Holyrood, as a "disaster".
He added: "If we do not change, if we opt for more of the same or steady as she goes, we will consign ourselves to steady decline and years of opposition.
"We need to unite as a party and to start talking positively about our values, what Labour stands for and not just what we are against."