Scottish winter death rate lowest in 20 years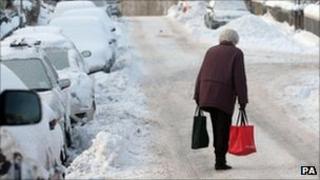 Fewer deaths were recorded in Scotland last winter than during the previous 20 winters, despite unusually cold weather.
There were 19,626 deaths in Scotland in the four months of winter 2010/11 (December to March), according to statistics from the Registrar General.
This was 61 fewer than the 19,687 recorded in winter 2009/10.
Overall, the number of winter deaths has been falling for the last 60 years, regardless of the weather conditions.
The 19,626 deaths registered in the four winter months of 2010/11 exceeded both the 17,397 deaths in the preceding four-month period and the 16,957 deaths in the following four-month period.
Therefore, the seasonal difference was 2,450 for winter 2010/11 - about 300 fewer than the 2,760 for winter 2009/10.
Commenting on "Winter Mortality in Scotland - 2010/11", the Registrar General for Scotland, George MacKenzie, said: "Last winter, the seasonal increase in the number of deaths was less than in the previous winter.
"Despite the unusually cold weather, winter 2010/11 had the ninth lowest seasonal increase of all the 60 winters for which we have calculated these figures.
"The long-term trend has clearly been downward. We began recording winter deaths in 1951, and the last 10 years have seen some of the lowest figures.
"However in recent years there has been relatively little change in the average number of deaths."
He added: "There is no single cause of additional deaths in winter. Very few are caused by hypothermia and only a small proportion by influenza.
"Most are from respiratory and circulatory diseases such as pneumonia, coronary heart disease and stroke."