Murdered Stuart Walker faced indecency allegation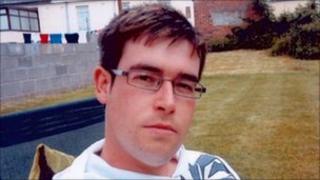 A man who was brutally murdered in Ayrshire had been questioned by police two months ago over alleged indecency, police have confirmed.
Stuart Walker, 28, was beaten and burned in an attack in Cumnock.
Strathclyde Police said a report had been sent to the procurator fiscal in August after Mr Walker was accused of indecency involving a 12-year-old boy.
Officers said there was nothing to suggest the murder had been connected to the allegation.
Detectives are continuing to identify a motive for the murder of the openly gay hotel worker.
The police said there had been nothing to suggest the attack was a homophobic crime, but they refused to rule it out from their investigation.
Mr Walker's body was found at about 05:00 on Saturday near the Caponacre Industrial Estate in Cumnock.
Family and friends have described Mr walker as a "true friend and gentleman".
Hundreds of tributes have also been posted on Facebook.