Scottish population 'reaches new record high'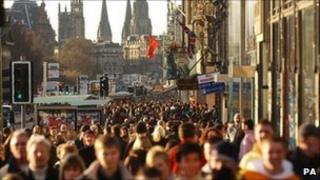 Scotland's population may have reached a record high, it has been estimated.
The National Records of Scotland believes the number of people living in the country overtook the 1974 record of 5.24 million earlier this year.
Experts predicted the population would continue to rise faster than expected, reaching 5.76 million by 2035 - a 10% increase on the 2010 figure.
They said a high birth rate and an increase in migration were responsible for the rise.
The Projected Population of Scotland report, issued by the National Records of Scotland, is based on the country's estimated population in mid-2010.
Previous projections had been based on estimates from 2008.
Senior Statistician Kirsty MacLachlan said: "The latest projections suggest a bigger rise in Scotland's population than we expected when we published our previous set two years ago.
"That's because the birth rate has remained high and migration has risen again in the last two years.
"These factors have raised the starting-point for our new figures. They also suggest that Scotland's population will continue to rise."
Ms MacLachlan said the projections indicated that the population may have surpassed the 1974 record this year - but added: "We will have to wait for the census results published next year to get a more accurate estimate of the current population."
The report predicts that the Scottish population will age significantly in the 25-year period, with a 26% increase in pensioners from 1.04 million in 2010 to 1.32 million in 2035.
It also suggests that the number of people aged over 75 will rise by 82%, from 410,000 in 2010 to 740,000 in 2035.
The number of people of working age is expected to increase to 3.5 million by 2035, up from 3.27 million in 2010.
It is expected that the number of children aged under 16 will increase by 5% between 2010 and 2020, from 910,000 to 960,000, then fall to 940,000 by 2035.