Scottish data reveals alcohol and drug fire link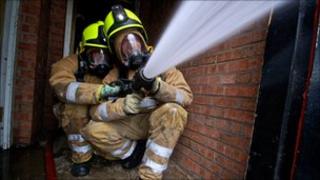 Alcohol or drugs were a factor in at least one in six accidental house fires in Scotland over the past year, according to government figures.
In 2010-11, they were suspected to have contributed to 835 of the 5,254 accidental fires, and caused 11 deaths.
Of the 38 accidental house fire deaths, 15 were thought to have been caused by blazes started by smokers' materials.
The detailed figures were revealed after headline statistics in June showed an overall fall in fire deaths.
The earlier report showed there had been a total of 47 deaths caused by fires last year.
This was a fall of 12 on the revised figure for 2009-10, and the second lowest level in a decade.
The total number of fires in Scotland was 38,927 in 2010-11.
The latest figures also showed that of the 47 deaths caused by fires, 33 of the victims were male.
Of the 945 house fires which resulted in non-fatal casualties, 515 were caused by cooking appliances.
Community Safety Minister Roseanna Cunningham said the government would continue to monitor alcohol and drug links to house fires.
She said: '''We all want our communities to be safe from fire, especially as we prepare to enter the festive period.
''The Scottish government and fire services continue to work hard educating people about the dangers of fire, and the most important message we can give is not to be complacent and always be on your guard.
"We also urge you to get a smoke alarm and check it regularly to ensure it is in working order. Alarms really do save lives.''