Quarter of Scots 'obese', health survey says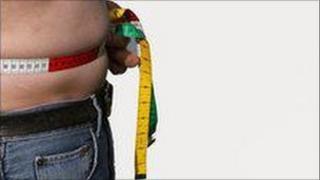 More than a quarter of adults in Scotland are obese, according to official figures.
Statistics from the Scottish Health Survey suggested 27% of people between the ages of 16 and 64 were obese in 2010.
The Scottish Health Survey said it continued the upward trend from just 17% in 1995.
The survey, produced for the Scottish government, said it was predicted that obesity rates could reach 40% by 2030.
The figure for the number of adults deemed to be overweight (with a body mass index greater than 25) was now 65%, the survey said.
The percentage of overweight men (67.8%) was significantly higher than women (62.4%).
The survey follows the launch of the government's action plan to tackle obesity in March.
A Scottish government spokesman said: "Our action plan published earlier this year sets out actions being taken to change the environment in which we live to make it easier for everyone to make healthy choices, including eating more fruit and vegetables and less salt, fat and added sugar and becoming more active.
"We have introduced a range of measures to improve diet and are spending over £7.5m in the next three years on projects to encourage healthy eating."
The spokesman added: "As part of this we are working closely with the food industry, including manufacturers, retailers and the hospitality sector to reduce the saturated fat content of products and build on the positive steps they have been making over the last few years on the promotion of healthier, less energy dense food."