Scottish gun crime falls to 32-year low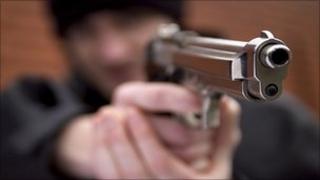 Gun crime in Scotland has fallen to a 32-year low, according to the latest official figures.
The total number of offences involving firearms recorded by police across Scotland decreased by 24% between 2009-10 and 2010-11.
There were 154 shootings in which people were killed or injured last year, a drop of 28%.
The justice minister praised the efforts of Scotland's police forces in getting guns off the streets.
Kenny MacAskill said: "The message appears to be getting across that guns put lives at risk and anyone caught using them can and will be punished heavily."
In 2010-11 there were 643 offences involving the alleged use of firearms, compared with 843 the previous year.
Dangerous individuals
There was also a drop in incidents involving air guns, which accounted for 36% of all offences. In 2009-10, they accounted for more than half of all offences.
The majority of gun-related crime happened in the Strathclyde Police force area, which saw 56% of all the firearms offences recorded in Scotland.
The figures showed a drop in the use of guns during assaults, robberies and vandalism offences. However, there was a slight increase in attempted murder cases involving a firearm, from 11 the previous year to 13.
Mr MacAskill added: "Our police officers across Scotland deserve great credit for their detection, educational and preventative work to get firearms out of the hands of dangerous individuals and off our streets.
"These statistics reinforce that our communities are becoming safer and better protected.
"While there are many positive elements to today's firearm statistics, we cannot be complacent. All of us - the government, police, the Crown Office and the courts - must continue working hard to ensure that in the long term, the number of offences involving firearms continues to fall."
Scottish Labour's justice spokeswoman Johann Lamont MSP welcomed the overall fall in gun crime and paid tribute to the "hard work of police officers across Scotland".
However, she added: "With the number of attempted murders involving a firearm increasing there can be no complacency whatsoever from the SNP government.
"Let us not forget it is knives that continue to kill more Scots than any other weapon. The SNP government must redouble its efforts to drive down violent crime, especially knife crime."