Sturgeon open to organ donor 'opt-out' system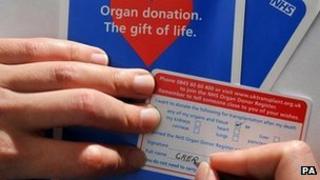 More Scots are being urged to sign up to donate their organs.
Scotland's donor register rate is higher than the UK average, with 37% of the population already signed up.
But Health Secretary Nicola Sturgeon said more than 600 people were still waiting for a life-saving transplant.
She said she was open to the idea of an opt-out system, where people would be automatically added to the register, but said hard ground work needed to be done before any change in the law.
Ms Sturgeon visited the Royal Infirmary in Edinburgh to launch the latest campaign aimed at encouraging more people to become donors.
The most up-to-date figures show that 37% of the Scottish population - about 1.8 million people - have put their names forward for the register, compared with the UK average of 29%.
Presumed consent
The health secretary said: "I'm appealing, on behalf of those waiting for a transplant and their families, to anyone who has not yet registered to sign up to save a life through the Organ Donor Register.
"It only takes a few minutes but could mean the difference between life and death for those waiting for a transplant."
Ms Sturgeon met Brian and Muriel McCabe, whose son Grant collapsed and died suddenly, aged 40, in September 2010, and went on to donate organs that saved the lives of six people.
Grant was not on the donor register but his family said they were in no doubt about what was "the right thing to do".
Mr McCabe said: "I knew if my son needed an organ to survive we would have taken it with two hands so if any good could come of such a horrible situation, and he could help others live, we had to do it.
"My wife and his partner Liz agreed and so we said yes.
"We knew that this could help other people and they wouldn't need to go through the heartache that we were going through."
Mr McCabe said Grant's three children were told their father had saved other people's lives and this has been a source of comfort to them and their entire family, "knowing that their dad was a hero".
Helen Lang, from Johnstone, Renfrewshire, who had a life-saving liver transplant in June is also supporting this year's donor campaign.
She said: "Organ donation is a gift that gives you your life back. I can't thank my donor and their family enough.
"It is such a selfless thing to do to give the gift of life to others when you pass on."
At last weekend's SNP conference the delegates backed a resolution calling on the government to consider an opt-out system of presumed consent.
At present, the UK operates a system of informed consent for organ donation, which means people who wish to donate signal their intention on the national register and families play a key role.