'Ready for winter' campaign launches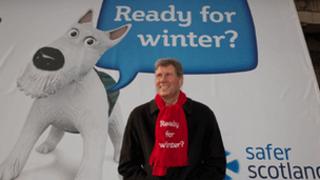 Scotland's first ever severe weather readiness campaign has been launched by the Scottish government.
The 'Ready for Winter?' campaign aims to encourage people, communities and businesses to take "simple but sensible steps" in readiness for tough weather conditions.
The move follows two successive severe winters in Scotland.
Prolonged heavy snow and a big freeze shut down major roads, airports and schools across the country.
The campaign is being delivered in partnership with the British Red Cross.
Its launch follows a Scottish government-commissioned survey which suggested more than half of Scots were concerned about coping with extreme weather this winter.
Three-fifths of those surveyed in May said they were not properly prepared for heavy snow, a prolonged freeze or flooding.
And two-thirds of respondents said they were concerned about a major emergency having an impact on them or their community in the next five years.
'Lessons learned'
The Scottish government said it had "worked hard to ensure that lessons were learned to improve preparations and enhance services".
Justice Secretary Kenny MacAskill said: "We only need to look back over the past two winters to see the significant impact that prolonged periods of severe weather can have on the daily lives of individuals and on the communities in which they live.
"This research shows that people are concerned about their ability to cope in an emergency, to keep themselves and their family safe, and it suggests that many do not feel adequately prepared for any severe weather that we might face this coming winter.
"Individuals and communities are stronger when they help themselves and help others."
He added: "The campaign we are launching with the British Red Cross, and other partners, will help address many of these concerns and will provide the sort of information and advice that many people have said they are looking for to make sure they can play their part in keeping safe and secure over the coming months."
British Red Cross in Scotland director Norman McKinley said: "Despite the severe weather of the past two years, this research shows just how unprepared many people in Scotland are for winter."
The campaign will highlight simple steps individuals and families can take to prepare for severe winter weather, including protecting pipes in homes and flats, having emergency kits in cars and agreeing emergency contacts.
It will be supported with information road shows held in every local authority across Scotland and a range of online resources to help raise awareness, signpost information and provide practical advice and tips.
Labour's transport spokesman Lewis Macdonald said the government had recognised that "things went badly wrong last year".
He said: "It is absolutely essential that SNP ministers take responsibility and deliver - Scotland cannot afford a repeat of last year's debacle where the SNP attempted to blame the weather forecast when things went wrong."
Earlier this month Transport Minister Keith Brown announced a £15m plan to keep Scotland's transport system moving this winter.
However, Mr Brown warned the public that even with the best-laid plans severe weather would bring disruption.
Transport Scotland, along with the country's 32 local authorities, has already begun preparations to ensure Scotland's 2,000 miles of motorways and trunk roads can be treated in the event of snow and ice.