Michael Moore in 'small Scotland' warning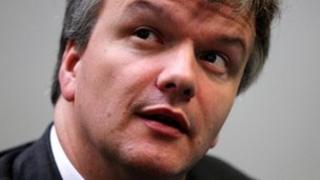 Scottish Secretary Michael Moore has claimed the Scottish government's "small Scotland" approach would diminish its influence on the international stage.
The Lib Dem MP said a "separate Scotland could not have protected Libyans from Gaddafi".
A spokesman for First Minister Alex Salmond described Mr Moore's statement as "bizarre" and "inaccurate".
He said the SNP fully supported the military action in Libya.
International influence
Mr Moore said UK cabinet members, MPs, officials and diplomats from Scotland had helped deliver the UK position on Libya.
He added: "I think people in Scotland would agree we should not lose that influence through the 'small Scotland' approach of the Scottish government.
"Our experience in Libya proves we shouldn't be looking to downsize Scotland's international influence. We should be proud of it and prepared to use it to achieve good where we can.
"The Scottish government needs to answer exactly what its defence force would look like outside the UK and whether it would be part of international memberships like Nato.
"Scotland deserves to know whether it is going to be part of making the world more secure or simply watching from the sidelines in the future."
Small nations
Mr Salmond's spokesman said: "This bizarre statement from Michael Moore is as inaccurate as it is tasteless - he has shown a complete lack of judgment in issuing it.
"The SNP and Scottish government fully supported the military action in Libya because it was endorsed by the international community through a Security Council Resolution - we opposed the disastrous and illegal war in Iraq which was so enthusiastically backed by the Tories, the Lib Dems' coalition partners.
"Michael Moore's British nationalism is so insular and ill-informed that he appears to be ignorant of the fact that some 17 countries took part in Operation Unified Protector to protect the people of Libya from Gaddafi's oppression, including a range of small nations such as Belgium, the Netherlands, Denmark and Norway - and non-Nato countries including Sweden.
"While people celebrate the liberation of Libya, all that Michael Moore can do is obsess about the SNP government, run down our friends and neighbours abroad, and repeat the same discredited and negative arguments that the people of Scotland have long-since rejected."