Scottish council redundancy payments 'cost millions'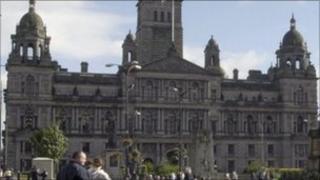 Some of Scotland's largest local authorities have spent more than £65m in redundancy payments in the past two years.
Most of the money was given to workers taking voluntary redundancy.
The figures were released under freedom of information requests made by the Press Association.
The largest council, Glasgow, said allowing staff to leave through redundancy or early retirement led to substantial savings on its wage bill.
Seven local authorities responded to the freedom of information requests.
Glasgow City Council paid out £32.7m for voluntary early retirement between January 2009 and August 2011.
The highest single payment was £120,362.
A council spokesman said: "Glasgow is one of the UK's biggest councils, with more than 20,000 staff and an annual budget of £2.4bn.
"Our current early retirement-voluntary severance scheme, in which around 2,600 are leaving the council, will save £44m from our wage bill every year."
'Statutory minimum'
Renfrewshire Council spent £14.2m on voluntary redundancy payments during the same period, with 751 employees leaving on a voluntary basis.
Its largest single payment was £134,883.
Of the other councils which responded, Aberdeen spent £11.3m on voluntary redundancy payments; North Lanarkshire spent £4.26m; Edinburgh City Council spent £1.27m; Highland Council spent £1.1m; and Dundee City Council made voluntary redundancy payments totalling £822,654.
The largest single payment in Dundee was £12,000.
In a statement, the council there said: "Dundee City Council used the statutory minimum redundancy rates for all redundancy payments made."
The smallest individual payment identified was from Highland Council. One person left its employment with a pay-off of £97.