Telehealth could save NHS money and help treat patients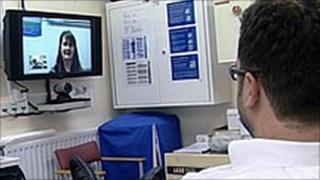 Mobile phones, the internet and digital televisions could help the NHS treat patients and manage costs, according to a new report from Audit Scotland.
Telehealth is a way of treating of patients in remote areas in a separate location from the clinicians.
This could include a consultation between a patient and a doctor using video-conferencing.
The report called on the NHS to do more to consider telehealth when introducing or redesigning services.
It said NHS boards in Scotland must look at new ways of delivering care, particularly as the health service was facing growing demand.
According to the public spending watchdog, the £5m telehealth system, which has the potential to save about £1,000 per patient per year, has been largely ignored by the boards.
There are about 70 small initiatives across Scotland which have identified the benefits of telehealth. 
These benefits include less travel, faster diagnoses and fewer hospital admissions, according to the review.
However there have been limited opportunities for clinical staff to gain experience of using it, and more education and training was needed.
Auditor General for Scotland Robert Black said: "Telehealth could help to provide a range of services efficiently and effectively.
"Where it has been used, patients, doctors and nurses generally like it."
Royal College of Nursing (RCN) Scotland director Theresa Fyffe said: "If the benefits of telehealth are to be capitalised upon, education for training and staff must be improved."
Telehealth forward
The Scottish Centre for Telehealth has recently been merged into NHS 24 and the Scottish government has put in place a new e-Health strategy. 
Health Secretary Nicola Sturgeon said: "The NHS doesn't stand still and the way that services are delivered is constantly adapting, helping to improve quality for patients and efficiency for the public purse.
"Telehealth has a pivotal role to play in delivering efficient and effective care to people of all ages across our country."
Labour public health spokesman Dr Richard Simpson said: "There are still too few incentives for health boards to sign up to proven, effective applications."
Conservative MSP Mary Scanlon, a member of Holyrood's Health Committee, said: "The NHS 24 roll-out and progress of telehealth across Scotland has been disappointing despite the proven benefits to patients."
Giving the reaction of the Scottish Liberal Democrats to the report, Alison McInnes said: "Opposition parties have called on the Scottish Government to show stronger leadership to ensure a greater take-up of telehealth by NHS boards."