Bargain Scottish university fee deals on offer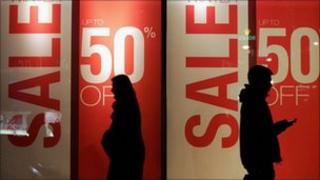 It sometimes feels as though the language of the supermarket has now spread to universities.
At Aberdeen, for example, you can now buy three years of education and get one free.
At Glasgow the special offer is a £1,000 discount for new customers, or rather students, in their first year.
And that means the total charge of £26,000 undercuts that in other ancient universities.
Among the surprises - on the day the ancient university of Glasgow announced its fees, the University of the West of Scotland (Paisley) announced higher fees.
Edinburgh and St Andrews plan to set the cost of the common four-year degree course at £36,000.
With varying fees on offer to students from England, Wales and Northern Ireland coming to Scottish universities, market forces now appear to have spread to Scotland.
Liz Smith of the Scottish Conservatives describes charges as "ill thought out and vindictive".
'Cartel' claim
Claire Baker, Labour's higher education spokeswoman, says Scottish education is "tarnished" by it.
Liam McArthur of the Liberal Democrats say ministers were "warned" these fees would come about.
The Scottish government indicates fees are essential to prevent Scots being squeezed out by an influx of students seeking to escape fees of up to £9,000 set in their own countries.
In truth, Scottish universities have little choice but to diverge on their fees. They would have been accused of acting as a cartel if they had tried to bring to "market" uniform fees.
Scots may be disappointed by fees for students from the rest of the UK. But chagrin is likely to be diluted by delight that higher education continues to be free for applicants who have been long-term residents in Scotland.
It is a huge relief for students uncertain whether they will walk into jobs when they graduate and be able to afford debt repayments.
It is also a huge relief to parents uncertain about their own chances of remaining in work and being able to help pay for their children's accommodation and food on campus.
There is of course widespread approval that a hefty chunk of the extra revenue from fees will be turned into bursaries for students from poorer backgrounds.
Approval is tempered, however, by concern that the salary thresholds for bursaries may lead to little or no cash help for the offspring of those on middle incomes, say teachers and nurses.
There is a risk, therefore, that the contingent of students from the rest of the UK heading for Scottish universities may become smaller - and disproportionately made up of the very poor and the very rich.